Our Instructors
Mackenzie Meier
In the Spotlight Owner, Choreographer and Instructor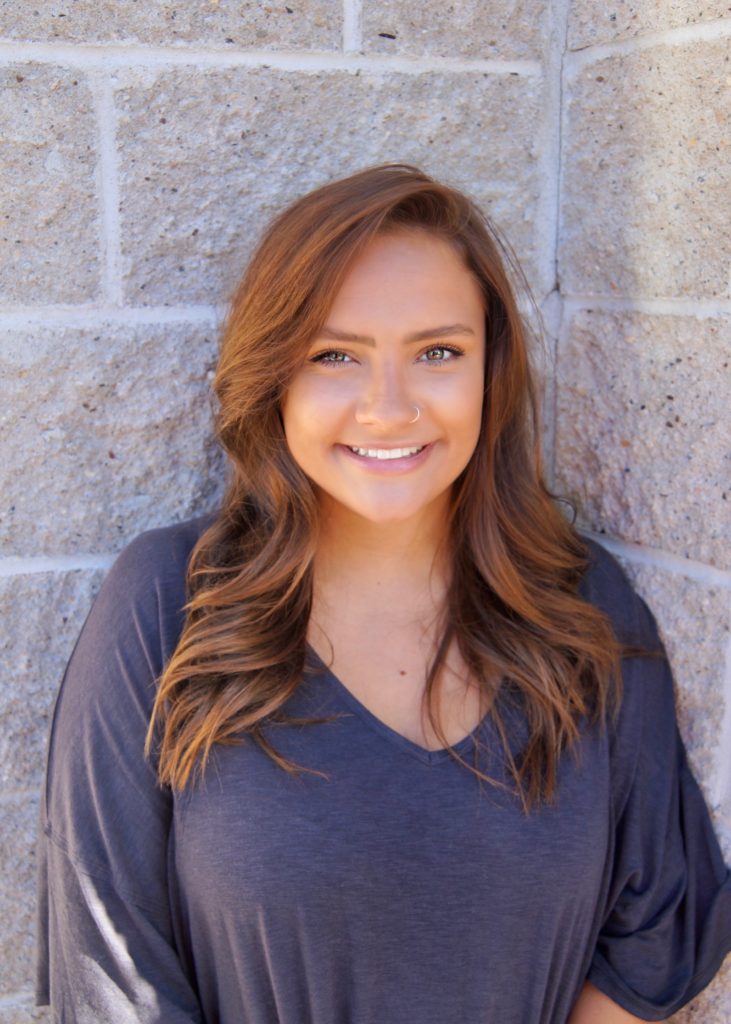 Mackenzie has been dancing since she was 3 years old. She began dancing at P.S. Dance Studio, and moved to ITS in 3rd grade. She soon found her passion, and began competing lines when she was in 4th grade competing all the way through her Senior year of high school. She is trained in jazz, ballet, tap, lyrical, hip hop, contemporary, open, and modern dance. While at ITS, Mackenzie was apart of several High Point Awarded dances. She had a total of 8 solos here at ITS that won multiple High Point Awards, Judges Choice awards, and she was also named Miss Teen Spotlight at Spotlight Dance Competition. Mackenzie began assistant teaching at ITS when she was 13 years old, and began teaching her own classes when she was 15. Mackenzie is a graduate of the University of Minnesota-Twin Cities with a major in Communications and minor in Management and Spanish. Mackenzie enjoys traveling, spending time with her family and friends, and of course, dancing!
---
Krista Asmus
In the Spotlight Competition Team Director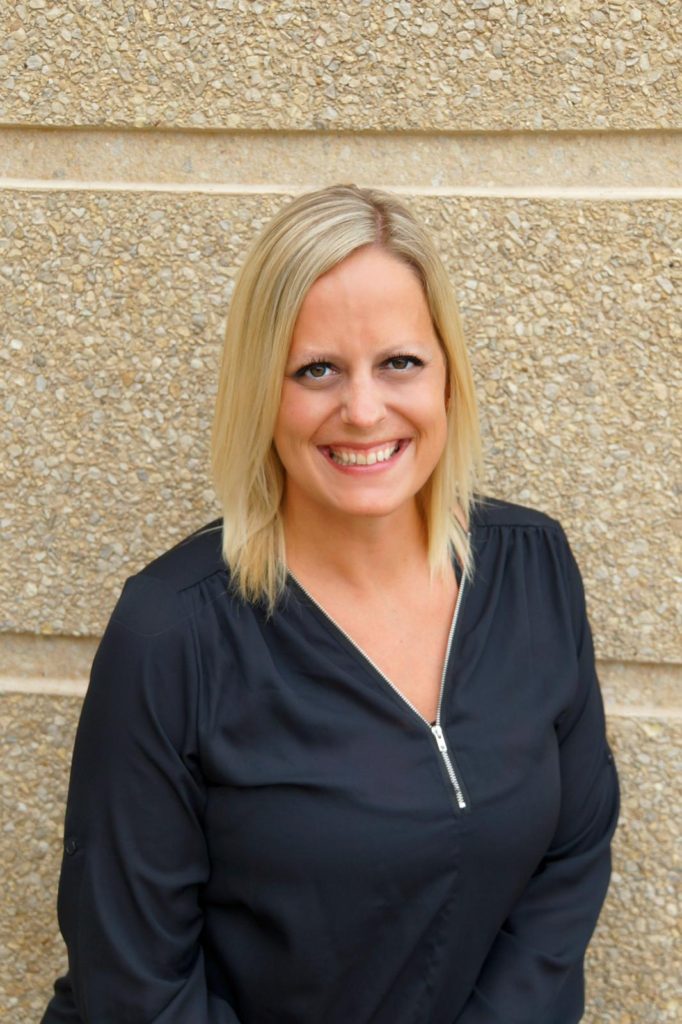 Krista began her dancing career at the age of 3 and continued training through high school with the Dance Shoppe, Butterfields Gallerie of Dance, and Dancin' On Broadway. During her high school years, Krista was a member of the Maple Grove Dance Team and served as captain her senior year. While on the Maple Grove Dance Team, Krista was named Most Outstanding High Kick Dancer three times. Krista attended Minnesota State University, Mankato and graduated with a Bachelors of Science in Health Education and a minor in Biology. While at MSU, Krista was on the dance team for 4 years, being named captain her sophomore, junior, and senior years. Her team attended the NDA Collegiate Dance Championship in Daytona Beach, FL consistently placed in the top 5 in Division II dance every year. Krista was also a summer dance camp instructor for 10 years with Just For Kix (JFK) and was named 2006 Veteran Staff Member of the Year. She served as Director of the Chaska and Waconia JFK youth dance programs for 2 years. Krista also served as a certified dance official through the Judges Association of MN dance teams and the Minnesota State High School League. Currently, Krista is beginning her 16th year as an assistant coach of the Maple Grove Dance Team. She has helped lead the team to their 2010 High Kick and 2008, 2011, 2013 and 2015 Jazz State Championship titles. Krista had the honor of being nominated for the 2009, 2011, 2013 and 2018 Assistant Coach of the Year from the Minnesota Association of Dance Teams. Krista will be entering her 14th season with In the Spotlight where she works with groups, soloist and duets/trios. She she has been honored with numerous overall awards, choreography awards, judge's choice awards, as well as many entertainment awards working with In the Spotlight's production routines. At the 2019 Groove National Finals in Atlantic City, NJ, Krista's mini soloist was awarded the National Grand Champion. At 2021 Stage One Nationals in Branson, MO, Krista's Junior Hip Hop and Production both won 1st place overall and were named National Champions!
In addition to teaching at In the Spotlight, Krista received her Masters of Public Health in Epidemiology in 2014 and currently works in cancer research with Boston Scientific.
---
Kendell O'Leary
In the Spotlight Ballet Director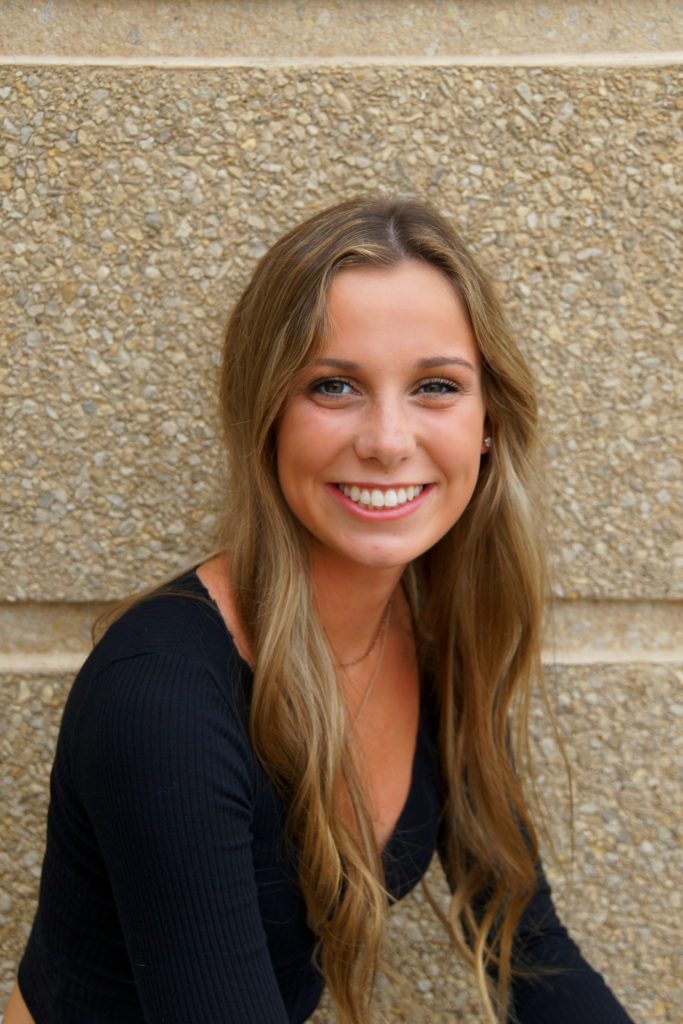 ​​Kendell found her love of dance at the age of 2. She has trained in ballet, tap, jazz, lyrical, pointe, musical theater and hip hop. Kendell trained at Dance Impressions, In the Spotlight, and then Northland School of Dance. At In the Spotlight, Kendell was a part of many group high point awards, and as a soloist, received several judge's choice awards, scholarships, standout dancer, and many other awards, including 1st overall at Nationals. At Northland, Kendell was a part of many high point and national award winning dances. She was awarded "Core Performer" at Radix Nationals, and "Best Dancer" at Nuvo and Jump Nationals. She also received a full scholarship for Radix Nationals her senior year. Kendell was a part of the Super Bowl Live dance team, and appeared on many news channels throughout Super Bowl 52 week. At 2021 Stage One Nationals in Branson, MO, Kendell's Junior small group placed 1st Overall! In addition to teaching dance, Kendell is studying for a degree in Nursing. I
---
Celeste Augst
Instructor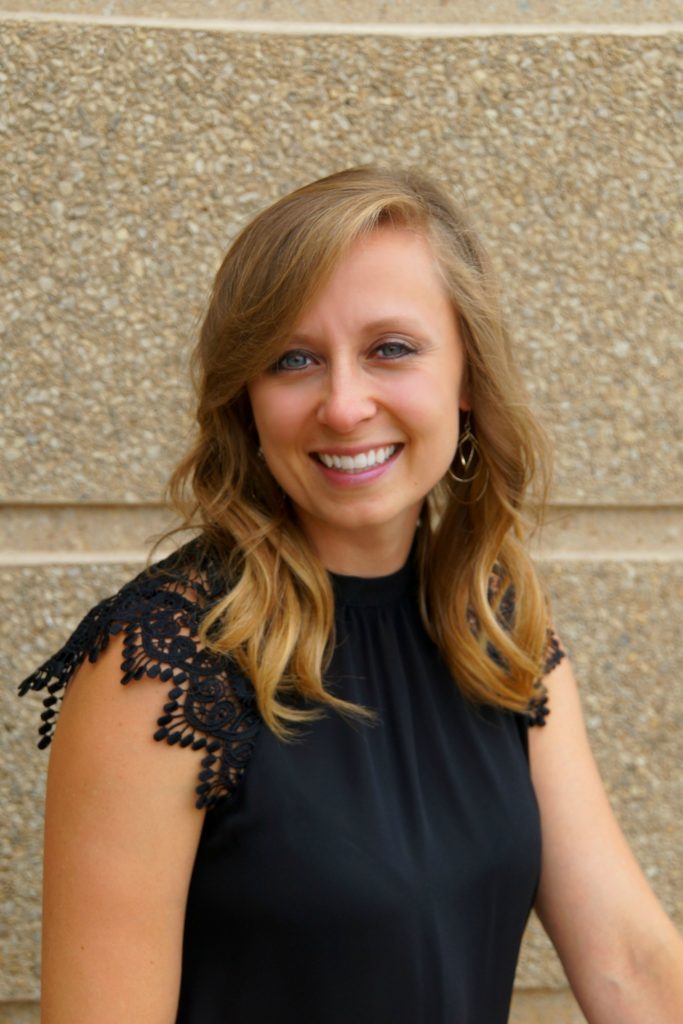 Celeste started dancing at the age of 3 at Carlene's Dance Centre. After three years, she moved to Dance Impressions for one year and then to The Dance Shoppe for the remainder of her school years. She started in competing lines at the age of 7 and trained in ballet, tap, jazz, and lyrical. While at The Dance Shoppe, she was voted captain of her team sophomore and senior year. Through her years at The Dance Shoppe, Celeste and her teams received numerous awards including: 1st overall at Nationals, "High Intensity," award for her solo, "Totally together turns," for small groups and many overall and cash awards. She was also on the Maple Grove Dance Team, teaching clinics and helping to choreograph dances for the team. Celeste then continued her dance career teaching at a small dance studio in the metro area for 3 years, and then opened In the Spotlight in 2005. Other teaching opportunities include: Elk River community Ed for ages 3-12, guest instruction at other studios in the metro area, and coach of the Rogers fall dance team. Her teams have won overall awards, cash awards, and choreography awards. In 2020, her small group won 1st overall and a choreography award. At nationals 2021 in Branson, her small group won 6th overall, and 2 other small groups were awarded judges choice awards. In the Spotlight was also awarded the Studio Competitive Spirit Award.
---
Ashley Gonzalez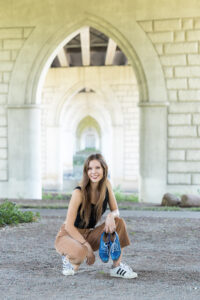 Ashley Gonzalez was born and raised in Central Minnesota. After attending her first tap festival in August 2013, Ashley began to pursue tap dance. From there, she started to attend tap festivals all around the U.S. to learn from professional tap dancers that were thriving in the tap industry. She began training under the direction of Chloe Arnold and Ricci Milan, growing and exploring in the art form. She has expanded her training by studying under Sarah Reich and Aaron Williams where she has had a strong focus on technique and musicality, while continuing to travel all over the world to learn as much as she can from professionals with various different styles.
Ashley has a passion for rhythm and learning: she sings and plays the flute and piccolo in addition to tap dancing, teaching, and choreographing. Ashley has danced many styles of dance for many years. She was a member of Chloe and Maud Arnold's No Filter Sole Talk youth tap company, American Tap Company, and the Minnesota Dance Ensemble.
Ashley performs with Rhythm Street Movement in Waking Up, Humbug, and various driveway tours. In past, she has performed at the 2018 Governors Ball Emmy Awards in Los Angeles, the 2018 MLB All Star Pre Party Concert in Washington DC. Ashley performed at the Voices of the People Welcome Celebration for the 2017 Presidential Inauguration. She performed in the Disney Newsies Broadway Musical at the University of Northwestern. In addition to this, Ashley has performed and competed internationally, receiving a bronze medal for her tap solo at the IDO World Performing Arts Cup in Seoul, South Korea. She also received a bronze medal at Dance World Cup Championships in Offenburg, Germany for a tap duet.
Along with her tap education, training, and performing, Ashley was chosen to represent the state of Minnesota as a tap dancer in the book Dance Across the USA by Jonathon Givens. Another honor she has been given was when she was chosen with a select few to sing with the Honors Performance Series at Carnegie Hall in 2018 in New York City. Some additional performances consist of Rejuv Medical Summit, Angel Foundation Charity event and National Tap Dance Day to name a few.
---
Sabriyya Dean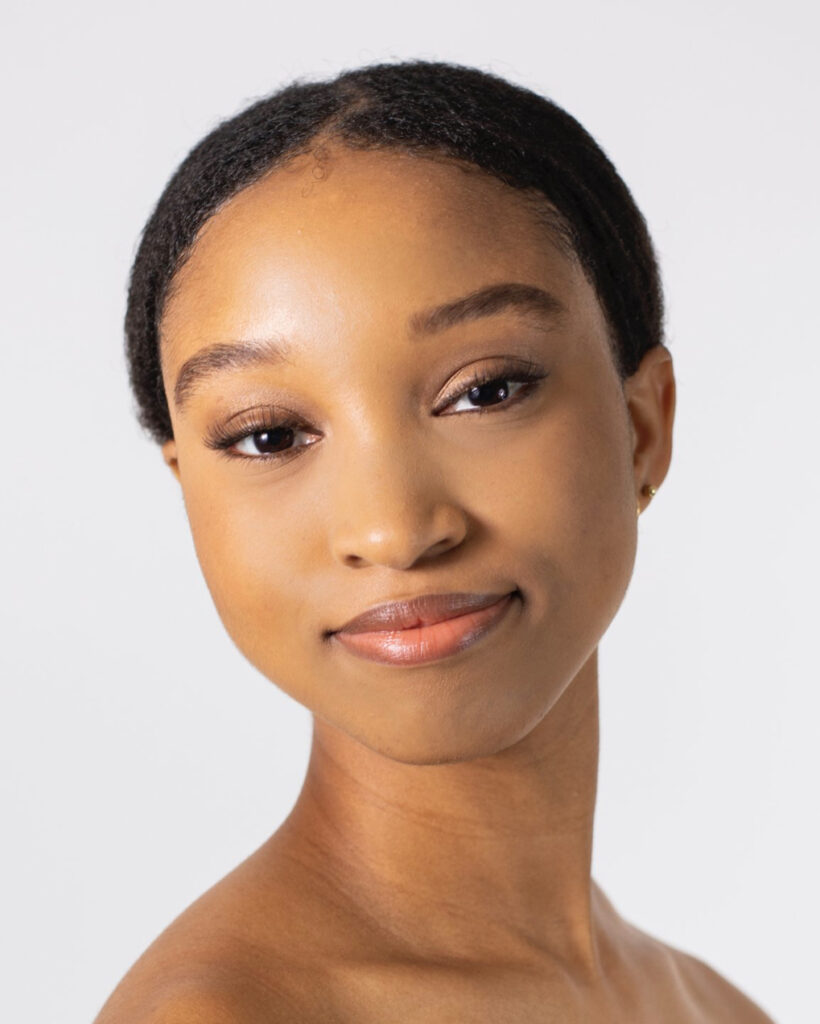 Sabriyya is from Charlotte, North Carolina. She started her dance training at BB's Dance Production. While there, she was accepted into Charlotte Ballet's Reach Scholarship Program, a nationally recognized community outreach program that allows students to access quality dance training in their neighborhoods for free. After three years in Reach, Sabriyya matriculated to Charlotte Ballet Academy. After graduation from the Charlotte Ballet Academy, Sabriyya danced as a Trainee with Charlotte Ballet for three seasons. Sabriyya has trained in many different genres of dance such as Ballet, Jazz, Modern, Improv, Graham, Dunham, Tap, Hip-hop, and Flamenco. Sabriyya will be going into her second season with the Ballet Co. Laboratory's professional company in St. Paul, MN.
---

Celia Cook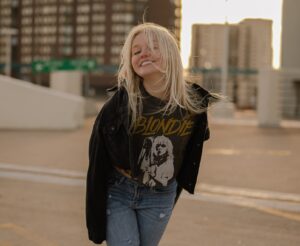 Celia started her dance career at the age of 2 at Northland School Of Dance and she danced there for 16 years until she was 18. Within those 16 years she trained in hip hop, ballet, tap, lyrical, contemporary, jazz, and pointe. Celia received many high point awards, judges' choice awards, scholarships, and first place overall dances in groups and as a soloist. Celia was also a part of the Super Bowl Live dance team and made many TV appearances during that week.
---
Jessica Norling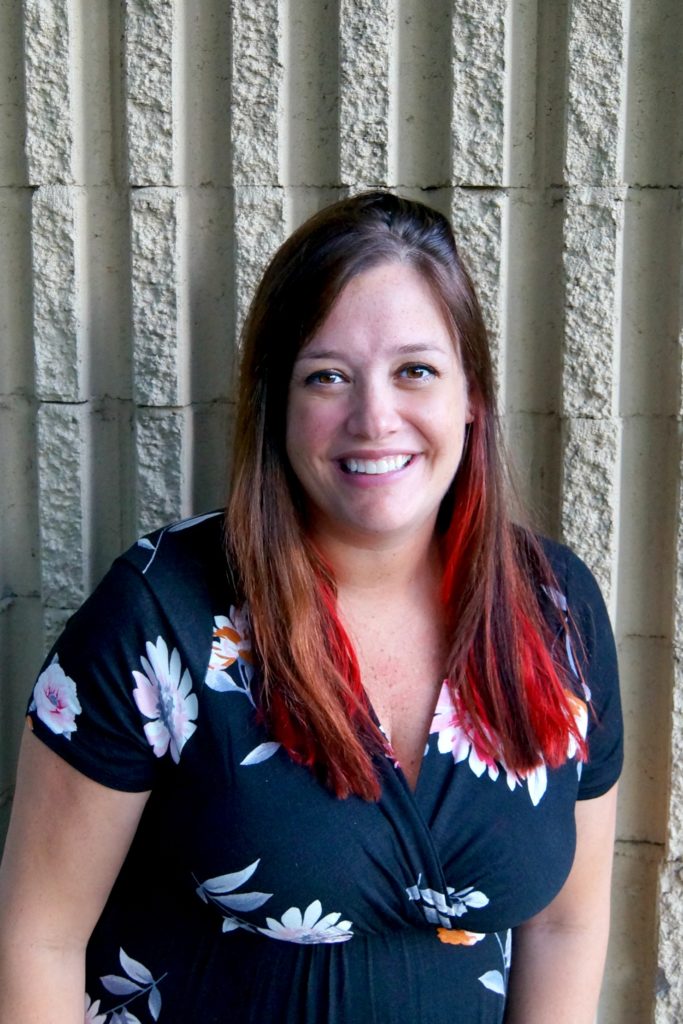 Ever since Jess was able to walk, she always found a reason to spin in circles, move her hips and jump. Her mom knew from a young age to put Jess in dance. When she was three years old her mom enrolled her at Dance Shoppe where she fell in love with dance. Jess continued her competitive dance at Dance Shoppe until 5th grade when she and her mom decided that they wanted a change. Jess switched studios to Butterfield Gallery of Dance where she competed competitively through 8th grade. When entering 9th grade, she joined the dance team at Totino-Grace High School. Her sophomore year, her team won first in state for AA for Jazz and placed 2nd in Kick. Jess became captain her senior year, and received the honor of All-State Honorable Mention. Following high school, she attended Minnesota State University Mankato, majoring in Health Science and Minoring in Psychology. Jess graduated with Magna Cum Lade. She decided she still needed dance in her life, but took a more recreational approach. Jess started teaching classes on campus and attended workshops throughout Minnesota. When graduating in 2009 from Mankato, she applied to graduate school and started in the fall of 2009 at University of Minnesota in the Occupational Therapy Program. While in the program, she was given the opportunity to coach the Andover Dance Team. She fell in love with coaching! It wasn't the competitions that made it fun, it was getting the opportunity to teach girls not only dance but also how to be the best version of themselves that they can be. In 2011 Jess graduated with her master's in occupational therapy. Following coaching Andover, she took her coaching to Academy of Holy Angels. In 2014, she moved to Huntington Beach California. She continued her practice in Occupational Therapy and found dance again. She attended workshops in L.A. on a weekly basis. In 2016, Jess decided that she wanted to be back near family. She moved back to Minnesota and bought a house in Rogers. Every time she was visiting MN from CA she came to her niece's dance recitals. She loved how this studio ran their recitals, loved the dances, and it just felt like this studio was a family. That studio was "In the Spotlight." Jess got an opportunity to talk to Celeste about what she could bring to her studio, and Celeste gave Jess one of her passions back, being able to teach students. Since 2016, Jess has been at "In the Spotlight" and it has been one of the best things that she has been able to do. Jess loved to "clean dances," and says that there is nothing more satisfying then seeing a dancer start in September with a certain set of skills and confidence, and see everything grow throughout the year. Seeing the dancers up on stage doing what they love and have worked so hard for makes all the long and hard practices worth it. She not only wants to help dancers expand their skill set in dancing, but she she wants to be the teacher that taught them more about being the best version of themselves and following the best path for themselves. ​
---
Julie Mordhorst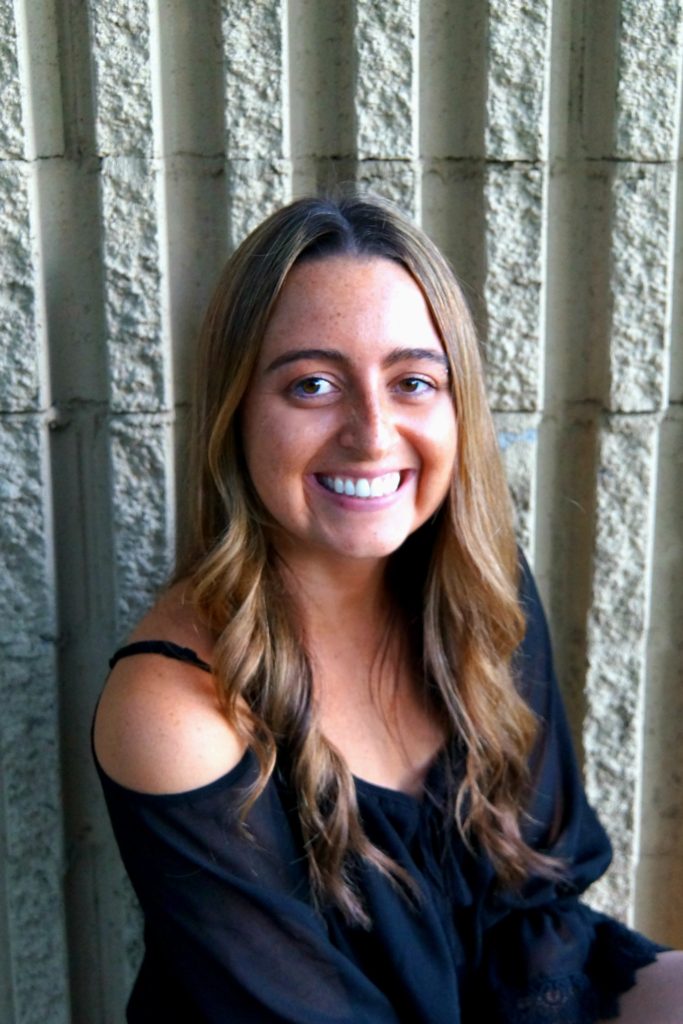 Julie Mordhorst grew up in Maple Grove, Minnesota where she was an active participant of the dance community. For 16 years, she was a competitive student at Dance Shoppe/Summit Dance Shoppe as well as a varsity athlete for Maple Grove Senior High for 4 consecutive years. During this time, she won local and national championships with her studio as well as two state titles with the Maple Grove Dance Team. While attending Winona Statue University in southeastern Minnesota, Julie received a Bachelor of Arts degree in Photography and Digital imagery as well as a minor in dance and business management. Her dance minor was centered on modern and ballet. Julie is a previous employee of Misty's Dance Unlimited, the founding member of More Than Just Great Dancing, where she focused her teaching and choreography around jazz and leaps and turns technique. She also was a member of the competition staff with different solos, teams, and production lines. While in the Onalaska Wisconsin region, Julie had an internship at the More Than Just Great Dancing corporate office as well as assisted in the first Midwest Dance Connection competitions in West Salem Wisconsin and Wisconsin Dells. She helped manage the Orlando, Florida national training event for More Than Just Great Dancing and the arrangement and behind the scenes of both dance competitions. Julie also traveled on Semester at Sea her Fall 2013 semester where she was able to broaden her dance knowledge by attending different programs throughout her voyage. She participated in a drumming and dancing program while visiting the country of Ghana. She also was able to attend a Ballet in Russia, and went to a Tango dance club in Brazil. This allowed her to have hands on experience of different cultures and the way they express movement through dance. After graduation, Julie moved back to the Minneapolis region where she continues teaching and coaching. Julie works part time at Summit Dance Shoppe in addition to working at In the Spotlight. At the 2019 Groove Nationals in Atlantic City, NJ, Julie had multiple ITS dances reach the national finals and place in the top 3!! She also is an assistant coach for the Maple Grove Dance Team where she works with both JV and Varsity level athletes. She is determined to make an impact in the dance community as well as be an inspiration for the youth.
---
Office Staff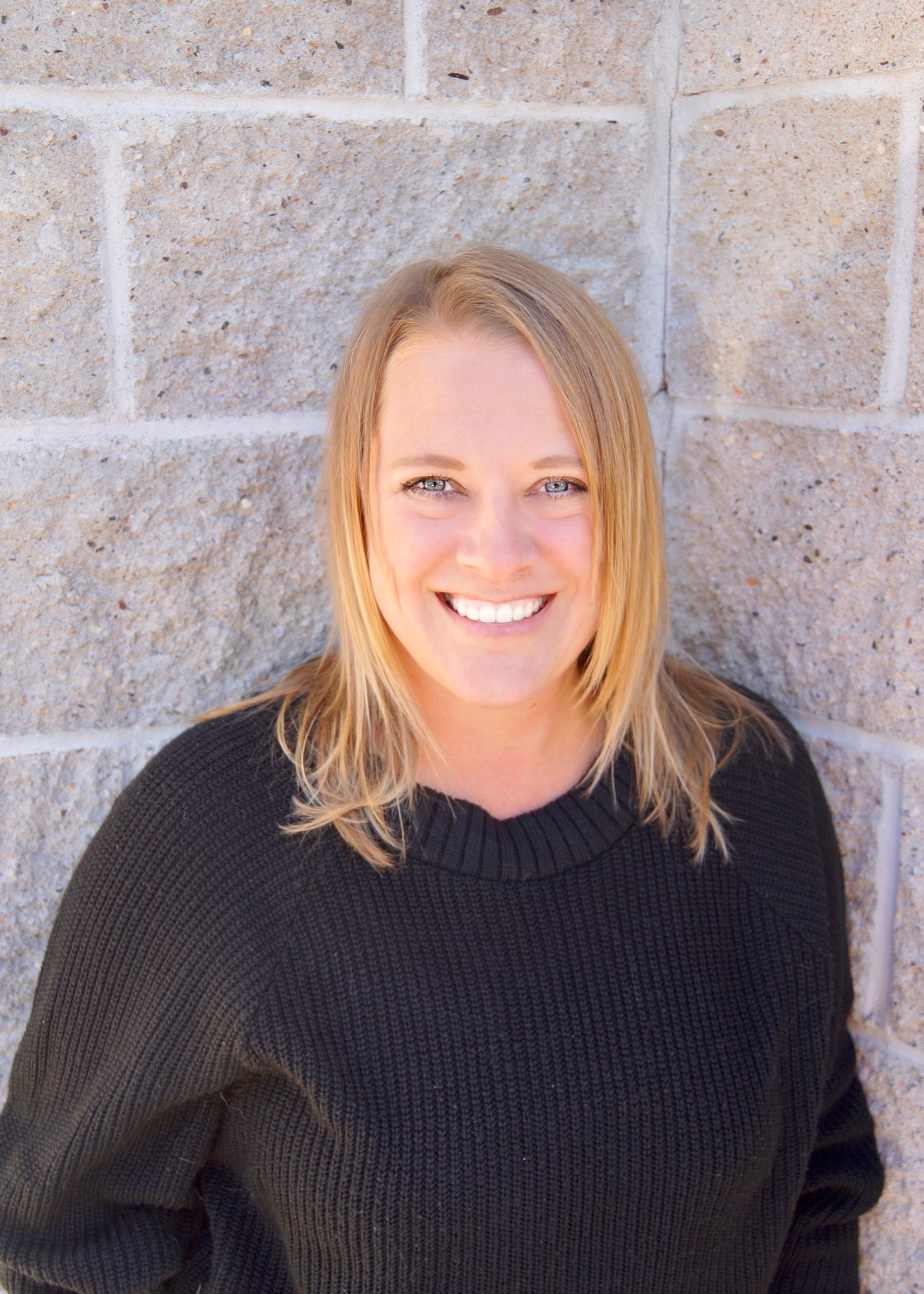 ---